April 24-25, 2008 Severe Storms in Nebraska
Two Radar loops leading up to the time of the tornado (more information can be found below these radar loops).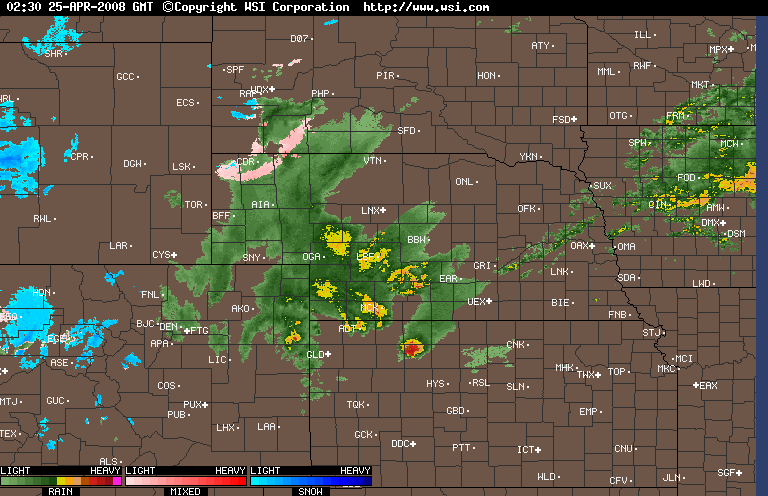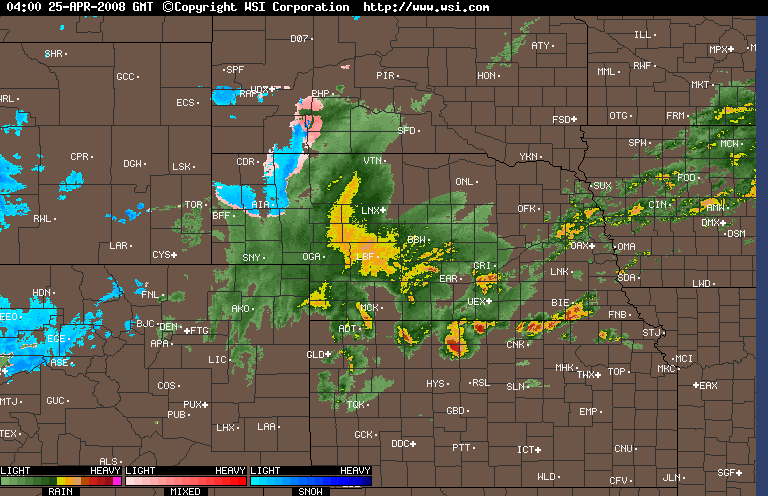 Tornado Reports (in CSV format)
Time
Location
County
State
Lat
Lon
Comments
2147
4 N BANCROFT
KOSSUTH
IA
4335
9422
NEAR INTERSECTION OF HWY 169 AND 410TH. REPORTED BY MINNESOTA DEPUTY DRIVING THROUGH KOSSUTH COUNTY. (DMX)
0236
1 N MORLAND
GRAHAM
KS
3936
10007
BRIEF TORNADO REPORT FORWARDED BY KAKE (GLD)
0342
4 S STOCKTON
ROOKS
KS
3938
9927
BRIEF TORNADO TOUCHDOWN (GID)
0350
4 S WOODSTON
ROOKS
KS
3940
9910
BRIEF TORNADO TOUCHDOWN OBSERVED BY STORM CHASER (GID)
0514
3 N BELOIT
MITCHELL
KS
3951
9811
AT LEAST ONE HOME DESTROYED (GID)
0526
3 N BELOIT
MITCHELL
KS
3951
9811
CONE SHAPED TORNADO AROUND 1/3 TO 1/2 MILE WIDE AT BASE. NUMEROUS POWER FLASHES VISIBLE. ROOF GONE OFF 1 HOME AND OUTBUILDING DESTROYED. (GID)
0537
6 NE BELOIT
MITCHELL
KS
3953
9803
NUMEROUS POWER LINES AND TREES DOWN ALONG WITH SHED DESTROYED AT FARM. (GID)
0550
JOHNSON
NEMAHA
NE
4041
9600
TORNADO MOVED THROUGH THE TOWN OF JOHNSON. PRELIMINARY REPORT FROM EM INDICATED DAMAGE TO VARIOUS BUILDINGS... INCLUDING DAMAGE TO THE ROOF OF A SCHOOL... A STORE FRONT (OAX)
0626
7 SW AGENDA
CLOUD
KS
3964
9752
BRIEF TORNADO ABOUT 2 OR 3 MILES NORTHWEST OF AMES. LASTED 1 TO 2 MINUTES. (TOP)
Tornado touches down in Johnson, NE
A tornado touched down in the town of Johnson, Nebraska at approximately 12:50 am Friday morning, April 25th. A preliminary report from the Nemaha County Emergency Management indicated a tornado path of around 3 blocks long by 2 blocks wide. Several buildings were damaged, which included: the roof of a school, a collapsed store front, several garages damaged, and numerous businesses have holes in their roofs. No injuries have been reported. The Naional Weather Service in Valley will send a damage survey team to Johnson Friday morning to conduct a formal survey and determine the rating on the enhanced fujita scale. Additional information will be provided as it becomes available.
Dan Nietfeld, Omaha/Valley NWS
Tornado Confirmed in Johnson, NE
A POST-STORM DAMAGE ASSESSMENT TEAM DISPATCHED FROM THE NATIONAL
WEATHER SERVICE OFFICE IN OMAHA/VALLEY NEBRASKA HAS SURVEYED THE
DAMAGE CAUSED BY SEVERE WEATHER IN THE EARLY MORNING HOURS ON APRIL
25.

THE TEAM HAS CONFIRMED A TORNADO IN NEMAHA COUNTY.
LOCATION...JOHNSON NEBRASKA
ESTIMATED TIME...1250 AM
EF-SCALE RATING...EF1
ESTIMATED WIND SPEED...103 TO 108 MPH
PATH WIDTH...100 YARDS
PATH LENGTH...0.3 MILES

THE TORNADO TOUCHED DOWN ON THE SOUTHWEST EDGE OF JOHNSON NEAR THE
INTERSECTION OF CHESTNUT ST AND 1ST ST. IT MOVED NORTHEAST ACROSS
TOWN...CAUSING EF1 DAMAGE TO SEVERAL BUILDINGS IN DOWNTOWN JOHNSON
ALONG MAIN ST BETWEEN 2ND AND 3RD ST. THE TORNADO WEAKENED AS IT
APPROACHED THE HIGH SCHOOL ON THE NORTHEAST SIDE OF TOWN...THEN
LIFTED ON THE NORTHEAST EDGE OF TOWN NEAR WALNUT ST AND 5TH ST.

DAMAGE SPECIFICS...ONE BUILDING IN DOWNTOWN JOHNSON HAD A COLLAPSED
FACADE. ROOFING MATERIALS WERE PEELED FROM SEVERAL DOWNTOWN
BUILDINGS AS WELL AS FROM THE HIGH SCHOOL BUILDING. HARDWOOD AND
SOFTWOOD TREES WERE SNAPPED AROUND TOWN. ALONG 2ND ST BETWEEN MAIN
AND CHESTNUT ST...TWO GARAGES WERE PUSHED OFF THEIR FOUNDATIONS.
BOTH HAD INDICATIONS OF GARAGE DOOR FAILURES. A BUILDING NEXT TO
THE FIRE STATION ALSO HAD A LARGE GARAGE DOOR BLOWN IN. NO INJURIES
WERE REPORTED.

ENHANCED FUJITA SCALE
EFO...65 TO 85 MPH
EF1...86 TO 110 MPH
EF2...111 TO 135 MPH
EF3...136 TO 165 MPH
EF4...166 TO 200 MPH
EF5...201+ MPH
MAYES/NIETFELD/SMITH